We know squat about female urinals
25 February 2011
Tags: Toilets, Toilet Testing / Performance, Urinals - water & waterless, Public Restrooms, Design Trends, Innovation, Australasia
Page 1 of 3 | Single page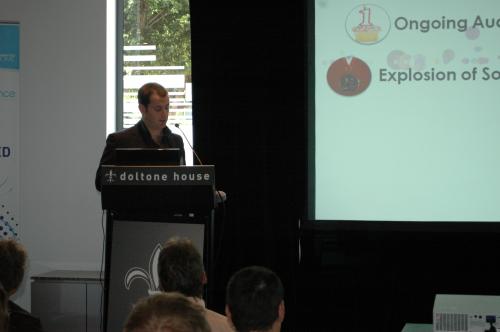 Whether you're supporting your team at a sports arena, dining in a fancy restaurant or waiting to board your flight at the airport, there always seems to be a queue of impatient women standing outside the ladies toilets.
Of course, there is more to the issue of female restrooms than lengthy queues at public venues. Many women doubt the cleanliness of the loo. Some cringe if their skin touches the toilet seat. Others choose instead to 'hold on' until they reach the comfort of their own bathroom: unfortunately waiting too long has proven to result in health problems.
Global attempts to conquer these issues have either failed or fallen on deaf ears.
In the late 1990s, German researchers developed prototypes for a female urinal.
They were not widely accepted; however some can still be found in gyms and bars. Research found that women didn't really take to the idea of standing up to pee. In fact, the word 'urinal' was found to be offensive and their prototypes were soon forgotten.
In 1997, the Dutch followed suit and created a urinal known as the Lady Pee, which of all things uses a funnel to aid in aim. Suffice to say, Europeans are still looking for an answer.
It is still common to see women queuing for the toilet in pubic venues. So as part of our research on female use of public toilets, Plumbing Connection created a survey to ask women about the current state of their public restrooms.
The results are in
In particular, our Ladies, stand up and be counted survey was designed to gauge if female urinals were the answer that Australian women were looking for to reduce waiting times and minimise health risks in public toilets. As with every survey, it did come with its fair share of surprising results.
We had many respondents who answered our questions and while the majority lived in Australia, there were also 23% who listed New Zealand, the United States, Canada or the United Kingdom as their country of residence.
Almost 45% of respondents admitted that their behaviour for toilets located outside the home was significantly different; noting that a fear of skin contact with the seat and reduced hygiene/cleanliness in public restrooms were two of the main contributing factors for this. Petrol stations, sports stadiums, nightclubs and music festivals were also blacklisted as the places that feature the most offensive public toilets.
Interestingly, almost half of the respondents said they chose to sit down on a public toilet, despite the common issues that plague these facilities. Others preferred to 'float' or 'hover' above the seat or spread toilet paper over the seat before sitting down. Just 1% chose to stand.
When you combine these factors together, it's easy to see why there are still long queues outside the ladies toilets – especially as 85% of respondents said that they spend between two and five minutes at any one time in a public toilet facility. The phrase, "as little time as possible" was also a popular comment for this particular question.
If a female urinal were to be made available in a public restroom, 52% of respondents said they would consider using it with the preference being a squat-style urinal over a wall-mounted fixture. Once again, a clear majority insisted that these urinals be enclosed for privacy, rather than out in the open for all to see.
Although the global plumbing sector has attempted to solve these issues, almost 80% of women believed that architects and building designers did not fully consider the issues surrounding female public restrooms.
"I think that female toilets are not thought out at all. There hardly ever seems to be enough of them in the building," one respondent wrote.
Continued...